Four weeks later I finally have my laptop back from the repair shop! Hooray. I really hope this will be the end of my long breaks from blogging. I have quite a few posts planned in my head, so hopefully they'll all be going up soon! Anyway, onto today's post :)

In general, I don't get on very well with shampoos. Over the last few years I must have tried about ten different shampoos in the search for one that left my fine hair feeling soft and silky. On a few occasions I believed that I could stop searching. But lo and behold, a few weeks later my hair would begin to feel limp and weighed down with product build up. So frustrating. This is where this beauty comes in.

The Bumble and bumble Sunday Shampoo is a clarifying shampoo, which means that it's designed to remove residue and impurities from your hair. At first, I was a bit sceptical. How could one shampoo effectively remove another shampoo from your hair? But then I read a few reviews and just had to try it myself.

It's worth saying straight away that this isn't a cheap shampoo. £18.50 is enough to make most peoples' purses cry. But a little goes a long way. It was recommended online that you use a 50 pence size amount and keep rubbing that in until you've managed to get all of your hair (apparently using too much makes it hard to wash out, which would completely defeat the point of using it). Since my hair is chest length I do find that I have to use a little bit extra for the ends. But the point is; this is going to last a long time. I've already used it three or four times and, as you can see, I've hardly made a dent.

I always thought that the saying "squeaky clean" was just that. A saying. But after using this the first time I was a bit surprised at the feel of my hair. It was quite difficult to run my fingers through, as if a little bit sticky. I can only assume that this is what wet hair feels like when it's not left covered in product. It's not the greatest of feelings (which is why I brought it up), but it's definitely worth it for the end result.

As well as only using a tiny amount each time, it is recommended that you don't use the Sunday Shampoo more than once a week. Hence the name (although I have been known to use it on a Tuesday or even Thursday. Rebel.). Because the shampoo is so good at stripping residue it can be a little damaging to your hair and has the potential to dry it out if used alone. I follow up the Sunday Shampoo with an intensive conditioner (my favourite is the Bee Strong Intensive Mask by Herbal Essences) and also make sure to apply Argan Oil to the ends whilst it's drying. Three steps to silky, light hair which feels cleaner for longer. I am in love.

Nowadays I'm still on the hunt for my favourite shampoo. But this time the search is on for a shampoo that makes my hair feel amazing for the first few uses. Because I know that, with this shampoo, I can get right back to square one and continue having amazing hair.

Sunday Shampoo is available online and in Boots for about £18.50.

Have you tried a clarifying shampoo before?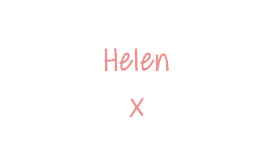 P.S. Due to its stripping ability, Sunday Shampoo is unfortunately not suitable for people with coloured hair.